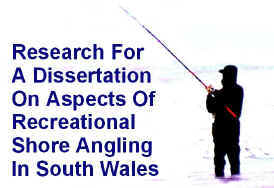 I'm a third year student of Marine Geography, studying @ Cardiff University, I'm also a keen ( but still very much a novice - plenty of blanks & not enough fish) sea angler. I'm researching for my dissertation which is based on Shore Angling in South Wales.
This dissertation hopes to examine Shore Angling in South Wales and assess itís economic, environmental and social impacts in the area. At this point in time many subjects relating to Recreational Shore Angling, are very high on the agenda of Local and National Government, as well as Non Government Organizations, at both local and National level.
Closer to home topics concerning Shore Angling have arisen as issues of importance in the Severn Estuary Strategy (SES) stakeholder groups. The SES provides a way for all organizations and individuals to communicate about the estuary and their concerns.

The Questionnaire hopes to Assess :
The value of the Shore Angler to the Recreation and Tourism Industry.
The Anglers own perception of their environmental Impact.
Anglers view on their own contribution to science and conservation.
Anglers view on the present management of their sport .
Anglers view on the current MAFF fish stocks policy.
After designing this questionnaire I've become aware of it's short comings, please excuse the clumsiness of some of the questions. I only hope I get the opportunity to refine my techniques in the future.
The marks page hopes to collect and compile a list of the most intensively fished areas in South Wales, itís not an attempt to cash in on your favorite fishing hot spots. The information is rather to be used in this and future work to guide research.
Please visit the marks page and leave a cope of marks that are not already on there.